If you need to execute a particular web page on a given time interval, than CRON job is a solution for you. Using this method you can automate the web page execution. In this post we will show you an Cpanel cron job example for a web page.
Cpanel Cron Job Example:
Step 1: Login in your server Cpanel account. Under Advanced section click on Cron job button to create new cron job for web page.

Step 2: Now you got the add new Cron job screen. Under Common settings, you can set the time frame to execute the web page. Suppose in every 5 minutes or in every 30 minutes etc.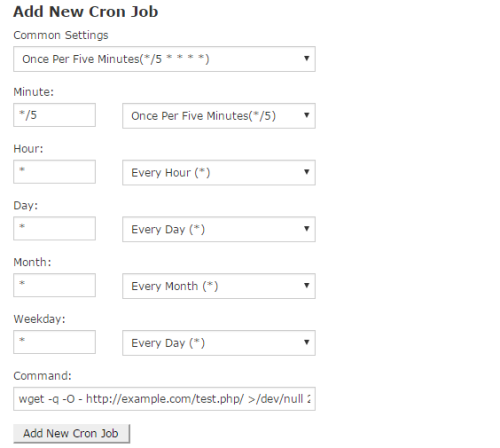 In command input box use Linux command for webpage. For example
wget -q -O – http://example.com/test.php/ >/dev/null 2>&1
In cron job you have option for Cron Email. In this feature you can get an email every time Cron job perform. To use this feature just use >/dev/null as null value.
Like that: wget -q -O – http://example.com/test.php/ >/dev/null

Using this command you will receive an email every-time when Cron job execute. But using this you email inbox fill up with huge email data.
As described above cron job example you can schedule any web page using Cpanel based on time interval.