To create HTML form more user friendly and mobile user friendly, we suggest use jQuery Autocomplete feature. Using this email input field suggest email domain automatically from list of predefined domain names.
For example when user enter first letter of domain "@f" for "@facebook", than automatically @facebook domain will display in suggestion. Pressing tab-key or Click on it email domain selected. You can define number of domains in the script code.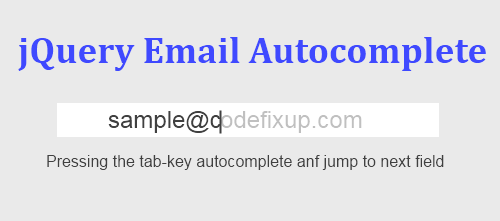 JQuery Email Autocomplete on your Web Forms
Lets explain you how you can implement jQuery Autocomplete in Html form.
1) First write code for html form to input an email. Add jQuery script link it this form. Here is the code example.
<script

src

=

"http://ajax.googleapis.com/ajax/libs/jquery/1.11.0/jquery.min.js"

>

</script>

<script

src

=

"js/autocomplete-email.js"

>

</script>

<

input

type

=

"email"

id

=

"emailvalue"

placeholder

=

"Enter Your email Here"

>
2) Now write jQuery autocomplete script code to initialize the plugin and set the domain value. Save this file with the name of "autocomplete-email.js". Must add this file in HTML form code.
$

(

document

)

.

ready

(

function

(

)

$

(

"#emailvalue"

)

.

autoEmail

(

[

"codefixup.com"

,

"facebook.com"

,

"liketotrip.com"

]

,

// list of predefined domain name for email autocomplete
This plugin already have some predefined domain name. Here is the name:
hotmail.com, yahoo.com, google.com, gmail.com, me.com, googlemail.com, msn.com, gmx.com, mail.com, outlook.com, icloud.com, aol.com, mac.com, live.com
Just use this jQuery email autocomplete code on your website form to make it more impressive and user friendly. If you find this post useful, Please share with others. Thanks